Zoetic Global Partners with Ecologistics Integrated Services and Tesla Carbon Bank to Facilitate Growth of the African Carbon Market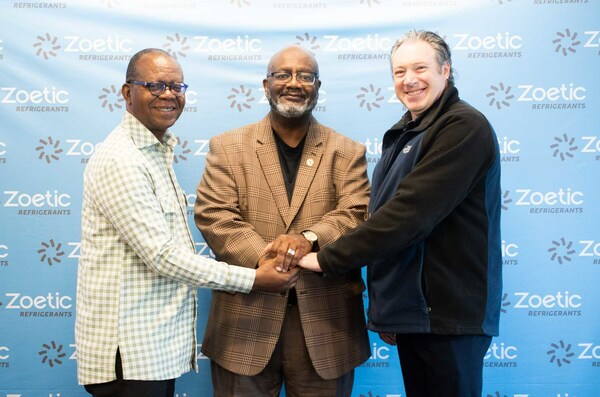 WASHINGTON, May 17, 2023 /PRNewswire/ — Zoetic Global announced today that it has signed a Memo of Understanding with Ecologistics Integrated Services, a global climate change investment and sustainable development firm, and Tesla Carbon Bank, a voluntary carbon credit program, to facilitate the growth of Africa's carbon market.
The new partnership establishes a cooperative and supportive alliance to support the successful development of Africa's carbon market by leveraging Ecologistics' capabilities and leadership as the Pan-African Ambassador to Carbon Trade Xchange (CTX) for African Carbon Markets and the pioneer of Carbon Finance Alliance for Africa (CFAA). Together, the team will work with key corporations in Africa that stand to benefit from engaging with Zoetic technology to generate carbon credits and carbon reduction certificates.
Zoetic provides companies in Africa a way to access carbon credits by utilizing its portfolio of technologies, which include innovative refrigerants' projects that are well-positioned to make an important impact. Companies that work with Zoetic save 20-40 percent on their energy bills and receive carbon credits based on sensor's precise monitoring of their HVAC systems. Global cooling is a key target as air conditioning needs are projected to triple by 2050 as a result of warming and the growing Africa middle class.
"It is a great honor to work alongside Ecologistics and Tesla Carbon Bank to expand Africa's fast-growing carbon market. The planet is starting to understand the consequences of using fossil fuel sources. We know we have to change our perspective on energy production and consumption in short order if we are to keep a habitable planet for future generations to come," said Jerome Ringo, Chairman and Co-Founder of Zoetic Global.
"We look forward to working with the team to establish an alliance that supports Ecologistics' mission to devote our skills, manpower, facilities, and other resources necessary for the successful development of carbon market in Africa. Together, we are well-positioned to make a positive difference," said Ecologistics President Dr. Paul Abolo.
Pictured at the signing ceremony for the new partnership are: (left to right) Ecologistics President Dr. Paul Abolo; Zoetic Chairman and Co-Founder Jerome Ringo; and Vivaris Capital President & CEO J. Christopher Mizer.
For information on Zoetic Global, visit https://zoeticglobal.com/about/
About Zoetic Global
Zoetic is a minority-owned solutions provider focused on delivering critical energy, water, and food technologies to areas of greatest need. Working in conjunction with its technology and strategic partners it has assembled a compelling portfolio of now solutions for now problems. Zoetic means, "of or pertaining to life." It embodies the dedication of its Co-Founder and Chairman, Jerome Ringo, who has been a leader in the climate movement for two decades. Zoetic is focused on the inclusion of areas of the world disproportionately impacted by climate change. Zoetic believes that critical solutions exist and require a next level commitment by leaders to implement them.
About Ecologistics
Ecologistics is a global climate change investment and sustainable development firm engaged in facilitating funding and technology support for national and sub-national entities. Ecologistics provides services that address environment-related social and economic challenges and communicates the sustainable development opportunities in climate change action through awareness, sensitization, participation, workshops, and lectures. Its approach involves identifying the contours of environmental and social challenges and reframing those challenges to opportunities for sustainable development.
About Tesla Carbon Bank
Tesla Carbon Bank's platform supports individuals, families, and their pets as they work to become net zero and offset their carbon footprint. Tesla Carbon Bank developed its ground-breaking voluntary carbon credit program by providing clients with secure facilities for their carbon credits, some of which are secured by insurance. Its technologies include vehicle electrification, energy storage, carbon sequestration, and power, and it also serves as an incubator for global entrepreneurs.
Media Contact:
Charlotte Luer
+1.239.404.6785
[email protected]
Photo – https://mma.prnewswire.com/media/2079519/Signing_Ceremony.jpg
SOURCE Zoetic Global